2017 is in full swing. It's time to be true to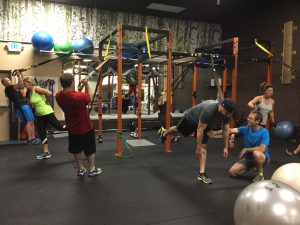 those resolutions you promised yourself! Let Well Being help bring out the new you in the New Year by joining our Rig Fitness and Fat Loss Challenge.
LOSE 2% TO 5% BODY FAT
Join us for 6 weeks and learn how to lose fat through creating proper eating and physical training habits. Workouts will be performed primarily on our ROGUE Monster Rig and incorporate a metabolic training format. In other words, you will perform structural exercises that incorporate spine and core stability, as well as compound exercises that use multiple joints with short rest intervals. This approach is scientifically proven to promise maximum calorie burn during and after exercise.
CUTTING EDGE TRAINING TECHNIQUES & EQUIPMENT
Our program works. Your work-outs are designed and guided by a certified personal trainer and limited to 6 or less participants. The workouts are creative and fun, but most of all, effective at demanding the most of you and producing the desired result of fat loss. Your body will benefit in multiple ways. Lower % body fat equates to a healthier heart. Metabolic training replaces fat stores with lean muscle.
Additionally, we have teamed up with Precision Nutrition's team of licensed nutritionists to provide comprehensive and healthy nutritional guidance throughout the 6 week program.
HOW TO JOIN US
We made sure it is simple, just click on the link below and fill out the "Contact Us" personal information form found in the lower left bar and/or choose to use the PayPal button (bottom of same page) and pay directly to secure your space in the class now.
http://www.carsoncityfitness.com/new-year-new-you-challenge.php